Depending upon which industry you serve, trade shows and industry events may still make up a large percentage of your marketing budget. There's nothing inherently wrong with trade shows, but unfortunately, most companies waste this opportunity to get in front of customers.
How? They're still assuming that all they need to do is set up a booth, and customers will magically show up. Or they leave all the advertising to the trade show itself, assuming it's the only way to generate interest.
Trade shows may be a tradition at your business. But that doesn't mean you have to exhibit the same way you always have.
Here are seven ways to generate more leads from your next trade show.
1. Make Sure Your Booth Says Exactly What You Do
Companies often roll hard on attention-grabbing images or words but neglect the most important thing: A potential customer needs to know what your company does. They won't look for ways to give you their business. You have to present your brand as clearly as possible from the start. 
One of the ways you can do this is by creating posters and banners that describe what you do in simple terms. You can have creative copy, but don't get too clever. Your first priority (though not the only one) is to uncover the people in the crowd who need your service or product. 
If you can, find a way to say it without saying it. The show is better than the tell, and when you attend trade shows, your goal is to show your target audience how they need your product or service. If you sell windows, bring them along, of course, but also bring an old one you've replaced. Allow show attendees to see exactly how your company does what it does.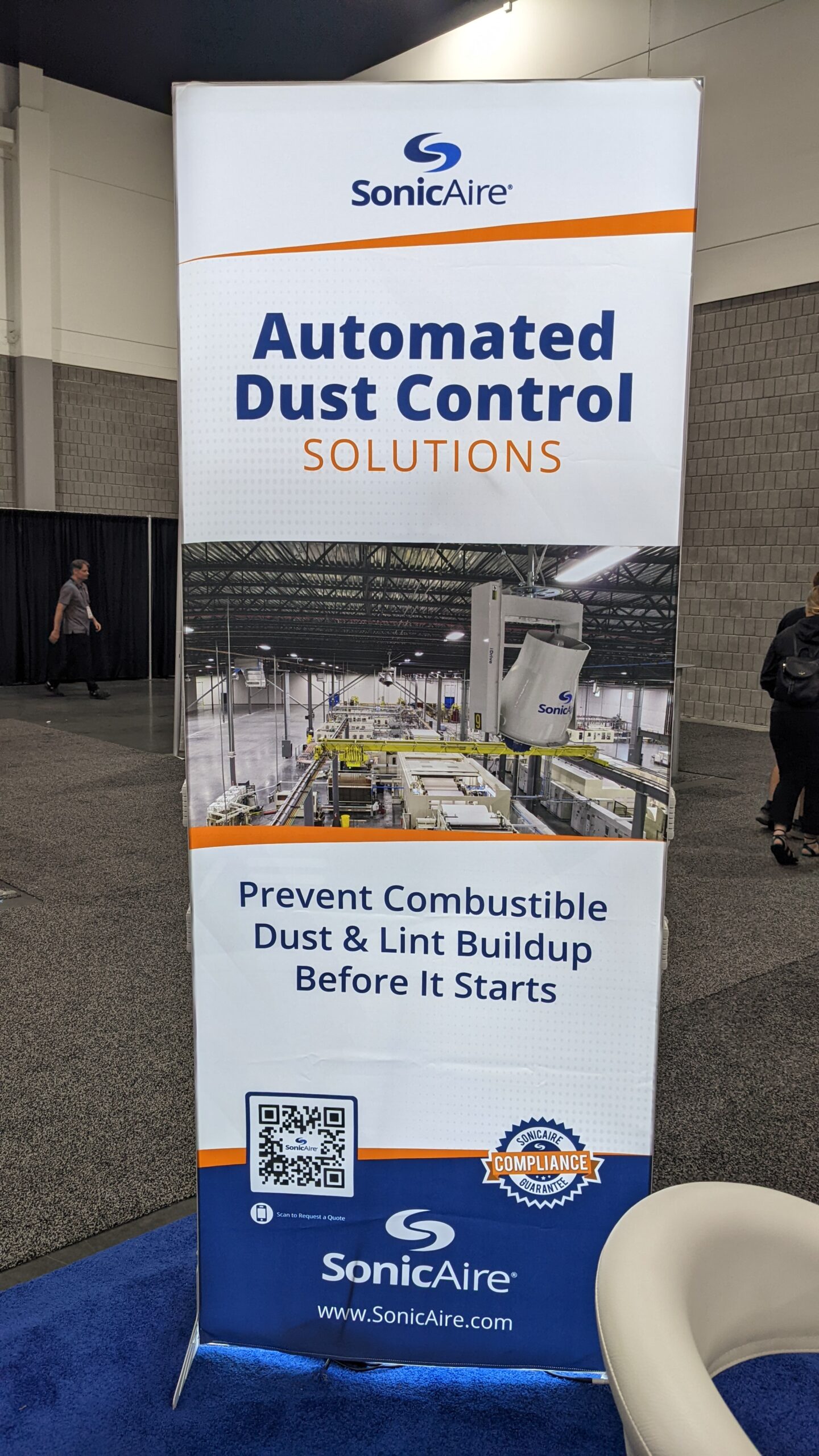 A lot of times, your brand's name alone will explain what you do. But don't assume everyone will get it. Before you design your graphics, you may want to test messaging with people unfamiliar with your brand or industry. It's an awful feeling when you realize you've spent a fortune on marketing materials only to miss the mark.
2. Have an Engaging/ Interactive Display at Your Booth
Your booth should be clear on your company's purpose while still finding a way to engage and interact with your audience. They don't just want to read your display ads and signage. They want to know why your business is a good fit for them.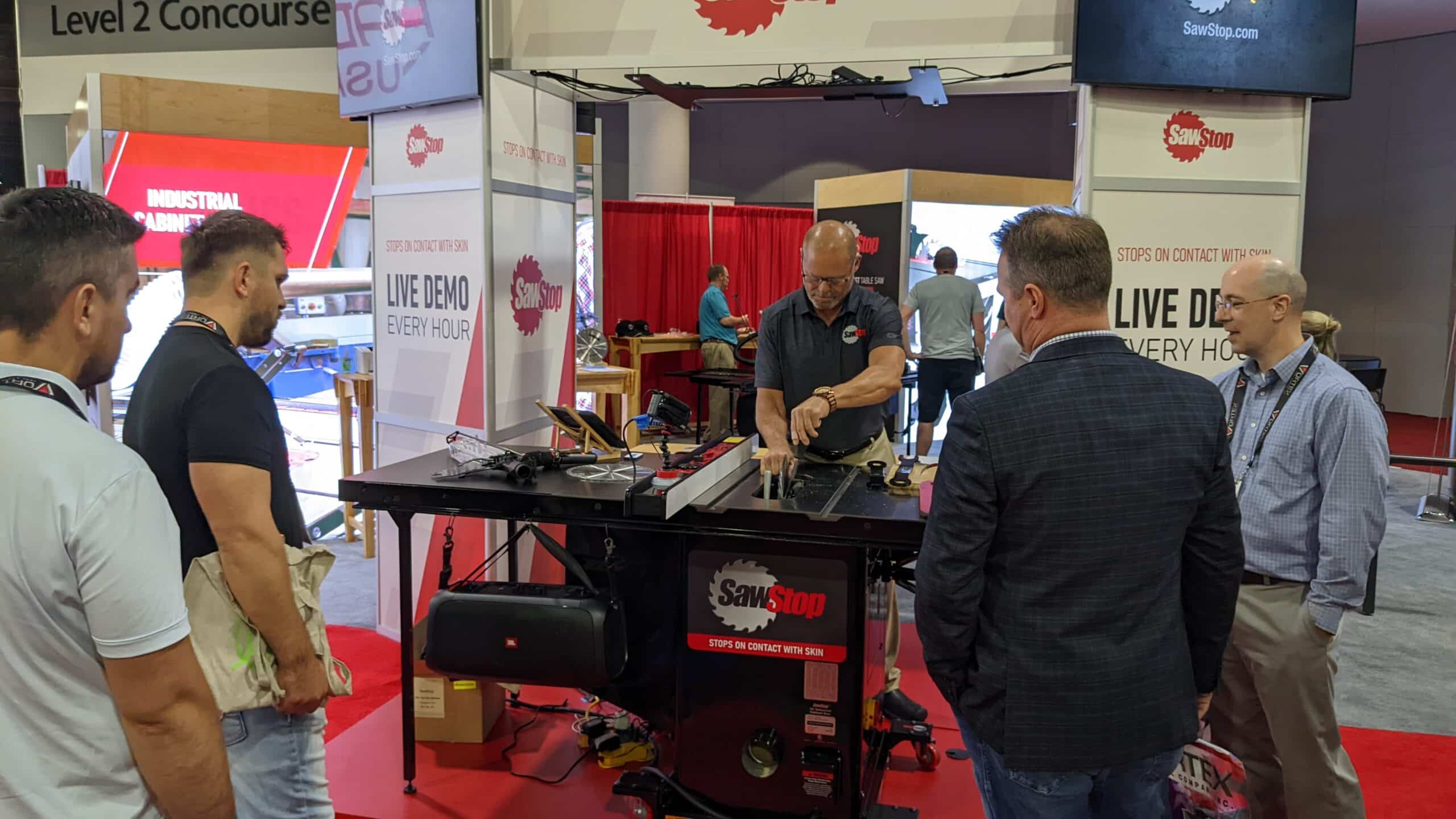 Examples of engaging displays could be an interactive ROI calculator where attendees can project the potential return of your product. To carry on with the window example, bring a heat lamp and show just how hot the wall behind the old window gets compared to your new window. Having something that a potential client can touch and feel will go further than fancy words or a sales pitch.
An interactive display that doesn't need you to operate can be a significant benefit. Your audience may not be ready to interact with you, or you may already be talking with another prospect. 
Too often, though, you'll walk past booths at trade shows, and the vendors aren't approachable. They're sitting down, playing on their phones, and not even making eye contact. Stand up, look people in the eye and be friendly. I don't know about you, but I'm far more likely to approach a booth if the vendor says, "Hey, how's it going?"
Remember, your booth doesn't have to be big, but you must make the most of your space.
3. Use Digital Advertising to Increase Awareness and Traffic
Your target audience has to know where to find you. 
Some older methods still ring true. If you're running print ads, remember to include your booth number. And if there is any directional signage you can sponsor to highlight the way or hanging booth elements that call attention to your company, it may be worth it.
Most of your traffic will likely be from people passing by, but you want to ensure that the people attending the show with a specific interest in your business don't struggle to find you. You may be the only booth at the trade show with your product or service, but without people, you can't make the sales.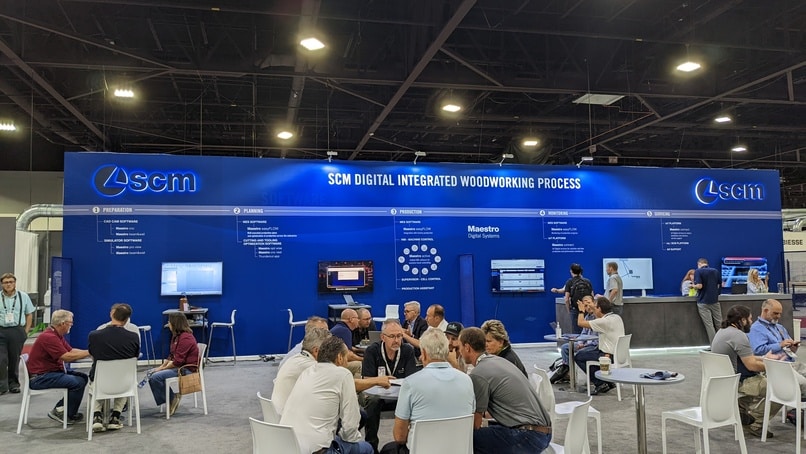 How will they know you're there? Try targeted ads.
Geotargeted ads are an excellent method of advertising at trade shows. Create a Google Ad that shows up within a 10-mile radius of the event. These ads will appear to relevant prospects within the immediate area based on their interests and other searches. Showing up a handful of times as they scour the web can significantly impact your traffic or catch people who don't make it by your booth.
Best of all, it doesn't have to catch their attention during show hours to be effective. Attendees are more likely to see these ads as they browse the web during downtime or watch YouTube videos outside expo hours.
Use graphics highlighting your product and your booth location. And use video to showcase how your products and services solve problems for the industry.
4. Email Existing Contacts in That Industry and Give Them a Reason to Stop by the Booth
Your list, people who you're already nurturing, may not even know a trade show is happening. Advertising for trade shows isn't always effective, but highlighting your presence to those who have subscribed is a good idea, even if it is.
For potential customers who have yet to "pull the trigger" on a sale, stopping by your booth at a trade show may give them a personal connection with your brand that pushes them over the edge.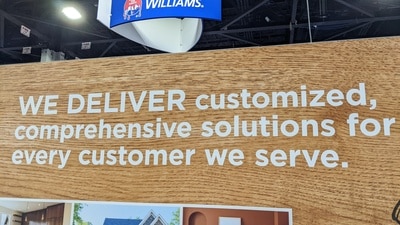 Repeat customers may appreciate your extra effort at the show and increase their purchases. Simply put, there's no losing when sending an email about your tradeshow booth to your subscribers—only opportunities to win.
You may be able to lure more people to your booth if you give freebies when they mention your email at the booth. 
If you have their email address, they're a connection you can use. If you don't use the network you've built, you're wasting opportunity and possibly costing yourself money. Even if they're not interested, they likely know someone in the same field who could be.
Sometimes what they need is an incentive to stop by the booth. Offer trade show-only pricing. Sell in-booth products at a discount. Or have a giveaway if people come by and register. Yes, it can be gimmicky, but the purpose is to get them face-to-face with your team and let your sales staff bring home the sale.
5. Complement Your Booth With Content Marketing
Focus your content on the specific industry in the lead-up to the show or event and the days after. 
What do we mean by content?
Going to a Wood Products conference? Write a blog post about how your product uniquely serves that market.
Have a landing page for that industry? Take some time to update the content, so it's optimized for the event.
Create social posts about where you'll be and what you're featuring in the days leading up to the event.
Record videos at the show engaging with customers or showing off your products. You can email your list and post these videos on social to increase interest.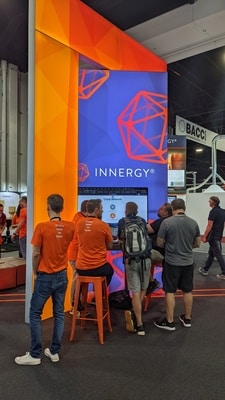 Why should you be doing all of this? When people first hear about your products and services, they likely head to your website and social media accounts. If your most recent content is about something other than their industry, it may not turn them off. But if it's all about them, the wheels start turning. They begin to wonder how you could help their business.
Content should be a crucial part of your marketing efforts, but syncing it up with events is a great way to increase your impact.
As attendees wander through a show floor, you have one to two seconds to get someone to stop and talk to you. Bright colors and quick explanations of the problems you solve are critical to getting someone to stop.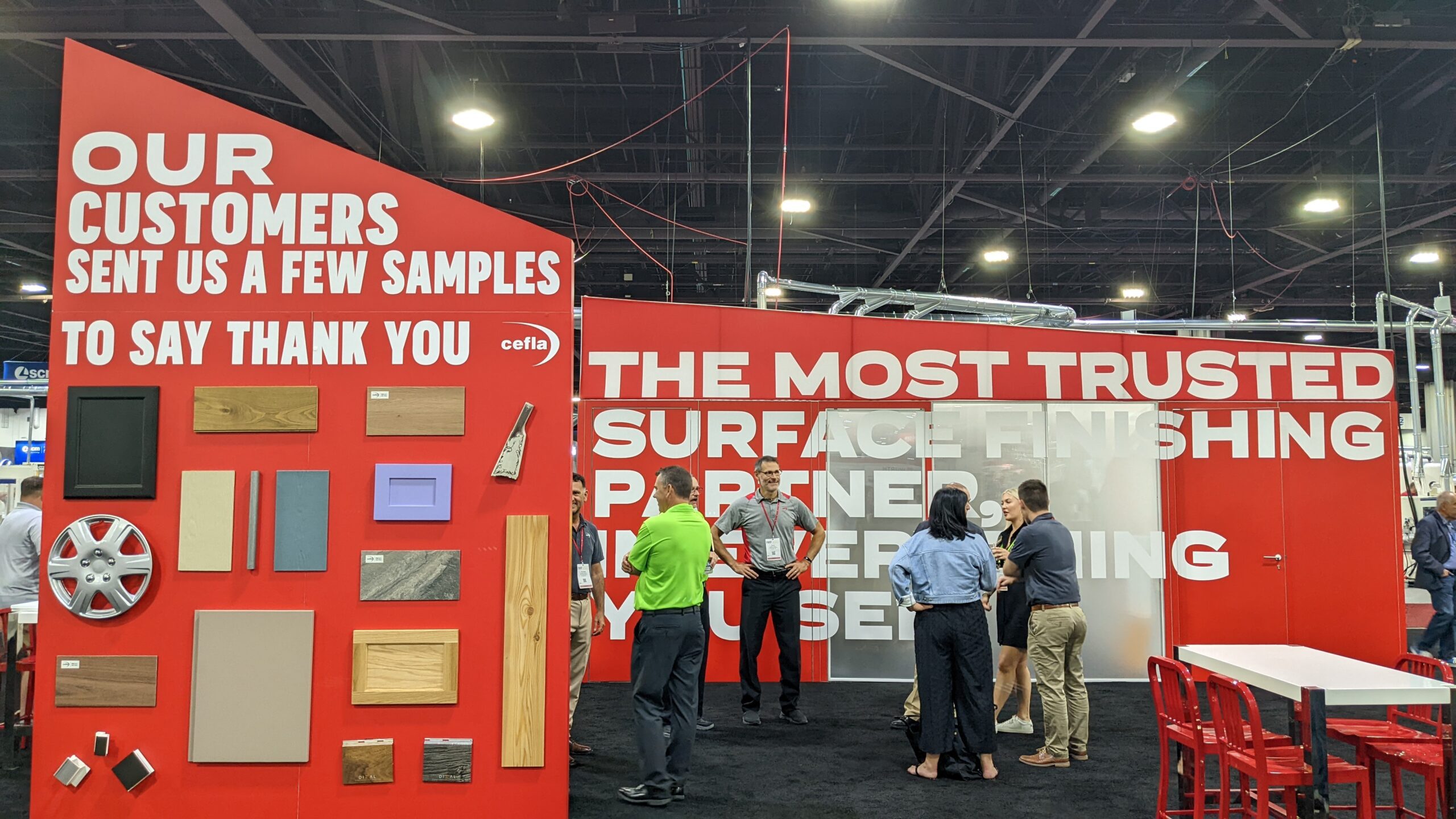 In addition to advertising, your budget should focus on creating an attention-grabbing booth design. Start early and plan for what you want. Focus on the tips above about creating an engaging booth and designing a display to catch the eye of potential customers.
Of course, this may not be your specialty. If you don't have a graphics designer on staff, it may be time to look for professional help designing a display that pops. 
If you're looking for help designing display ads that will attract the attention of your target audience, contact Spartan Marketing today.
If done properly, trade show displays should be reusable. So while it may come with a steep initial cost, it should be with you for years.
(Pro-tip: Take extra care moving your banners, boards, and signs if you plan to reuse them. Consider robust storage and shipping as part of your investment if you'll use them in many events.)
Not to put too fine a point on it, but an exciting, good-looking booth will set the stage for the kind of environment you create. Design a booth that encourages people to enter. Don't put a table up front with brochures and flyers while you sit behind. No matter how exciting your backdrop is, your layout shouldn't create a (literal) boundary between you and the customer.
Don't just take our word for it, though. Check out what HubSpot says about Trade Shows and how you can improve your success with proper planning.
7. Follow-up With Email Marketing
We don't mean email attendees after the show. Most often, companies will send a singular email from a salesperson following a show. If that person doesn't respond, they often slip off the radar and are never heard from again.
What you should be doing is adding customers to your email list. While they didn't overtly opt into your email list, they, in effect, opted into your marketing by giving you their email.
Warm them up with a follow-up email using your email marketing platform. Remind them where they met you and why they're getting an email. Include resources related to their industry (see suggestion #5 above). And let them know a salesperson will be reaching out directly.
If they unsubscribe, so be it. If not, these prospects will start getting all the other communications you send out. You'll stay top of mind while your sales staff continues to nurture them towards a purchase decision.
Not Sure What to Do?
Trust the Experts
Getting the most out of your trade shows is critical for many businesses.
But it shouldn't be your only marketing for the year.
There are other (often more effective) marketing tactics you should employ to generate awareness and create warm leads your sales team can close.
Reach out to us today to discuss your marketing plan or schedule a full marketing audit to identify what's working and what opportunities you're missing out on.